Voted Webware 100 Awards 2008
I have just voted Webware 100 awards 2008 to show my support for some of the web2.0 service that i been using and some of the creative idea that impress me.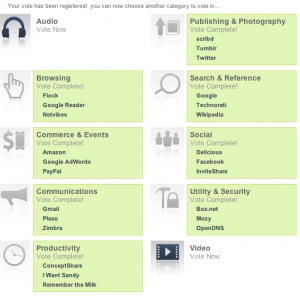 i never vote anything for video and audio this 2 category because i m not really familiar with the services on these category, so far for video i only know youtube , for audio i only use itune and heard about pandora before, so to be fair for this 2 category , i give up my vote on it.
Browsing – no surprise for the first 2 , google reader and netvibes since i using it daily, the last vote is a bit tough , the choice is between flock and safari, safari impress me by surfing performance boost but crash often on windows , so i voted flock as a creative product to combine social apps and browser
Publishing and photography – i been using twitter daily and impress by lots of 3rd party plugins for it, scribd impress me by their recent product – ipaper, last my choice is betwee drupal, wordpress and tumblr, in the end i gave tumblr my vote , because i think that micro blogging/tumblelog will be the trends.
Search & Reference – nothing much to say google, technorati and wiki.
Commerce & Events – nothing much to say paypal, Amazon and Paypal.
Social – delicio.us and facebook is what i using daily, last vote going to inviteshare for the creative idea, a site that let user share the invitation , i would say that is really getting attention during the time where you have to beg for invitation on those bigshot blogger's blog
Communication – Gmail , what i using daily too and almost control my other mailbox . Plaxo , i m impress since i start using plaxo, don't talk about the privacy issue, but a web service that let you sync everywhere , any platform is cool. Zimbra, i been thinking to try this since it launch , lets hope soon there will be zimbra service provider for asia for a reasonable price.
Utility & Security – openDNS help me during my isp DNS unreliable, Mozy will be ideally my home backup solution and Box.net seem like a ultimate tools to me
Productivity – no doubt remember the milk getting my vote and i m consider to become the pro member, I want Sandy is quite creative service, although i prefer their stikkit service and Concept Share ill be good for online team to work together.
Finally, these are my vote , did you vote yet ? what are your choice ? why ?