Firefox repeat crashing
Yesterday as usual when i try to launch my firefox , it ask me to upgrade some plugin, so i just upgrade without thinking twice and this bring me continue crash on starting of my firefox.
Every time i start firefox it will just crash and prepare to send report , so i did some research and try to launch my firefox in safemode, just fire up terminal and type
/Applications/Firefox.app/Contents/MacOS/firefox-bin -safe-mode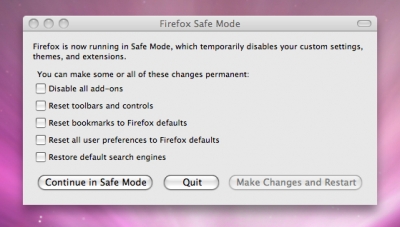 so this actually allow me to launch the firefox safe mode menu ,my first try is just continue in the safe mode and disable the plugin i just upgrade, restart my firefox, it still crash . Second time i checked the option disable all add-ons, finally my firefox launch successfully. after this i just turn on add on one by one to see which one causing problem, but this time no problem at all, firefox can be restart after each addon turn on.
Anyway this solve my crashing problem, worse come to worse i will suggest reset all user preference, if you are not on Mac, this should be help – how to start firefox safe mode on other os